Post by Pete1977 on Mar 2, 2009 11:27:32 GMT -5
first things first, some specs:
blade length- @3.5 inches
length closed- @4.5 inches
weight- @ 4.5 oz
tools-
One-handed serrated locking blade
Bottle opener with large locking screwdriver & wire stripper
Can opener with small screwdriver
Phillips screwdriver
Key ring
Toothpick
Tweezers
Reamer
Wood saw
handle- black w/painted on vic logo
OAL first impressions with this knife-
it is larger than a pocket knife w/out a clip than I prefer, and felt
uncomfortable for pocket carry. The action on the main blade was
gritty and that and the odd shape of the hole and it's location in the
handle made it difficult for me to open the knife one handed. there was
moderate vertical and horizontal play on the main (only blade). The
knife did sit very comfortably in my hand both with the edge up and
edge down. the hump of the blade when it is closed can be uncomfortable
when using the saw (which I haven't done yet, but just holding the
knife, it is directly under my index finger.
The lock is a liner style lock, more reminiscent of the imperial and
case style locking liners, than an actual walker locking knife. this
liner serves as the lock for both the blade, and the large screwdriver.
It is a medium thickness lock, and is made of stainless steel. It
seems pretty secure but I don't plan on spine whacking this knife to
check. The lock also works opposite a liner lock, and seems more suited
someone who is left handed.
The edge had some tangible burrs, both visible to the naked eye, and
easily felt when scraped along my thumbnail. i don't know if this is
from the factory, or from people handling the knife at ace hardware. it
was a display model, the only one in the store, since the salesman
orders them as they sell out, one at a time.
I mainly picked this knife up because of it's serrated blade, and
because the serrations are on the front (point) 2/3ds of the blade
rather than the back (ricasso) portion. I have always liked the
serrations victorinox uses, more of a scalloped edge, with uniform
curves, instead of the toothier serrations found on other brands of
knives. I have used several paring knives with scalloped edges by
victorinox, it is the ubiquitous knife found on most commercial fishing
boats for cutting bait and rope. the 1/3 of the blade that is plain
edged is only ground on one side of the knife, and i haven't tried
sharpening it yet, as after cutting up several cardboard boxes, some
rope, and other materials, true to the tradition of swiss army knives I
have used by victorinox, the edge is still very sharp.
the serrated portion of the knife cuts rope very easily, and with this
knife I didn't notice any benefit to having the plain edge portion of
the blade. however, this feature, with the serrations forward, made
cutting cardboard much easier with a downward pull cut.
I didn't really keep track of how much I cut with this knife, since
bladeforums was down when I got it, and I had a bunch of boxes from
moving that needed to be cut up and gotten rid of, so this knife came
into today's tests having already been used quite a bit on cardboard. I
was impressed with its cutting ability to say the least.
I am going to be taking this knife on the boat for a while instead of
the recruit I am currently carrying to supplement the Byrd Raven I've
been using as my main working knife for the last 5 or so months.
here are some comparison photos of some of my edcs with the trekker,
and some cutting photos.
trekker open showing its tools: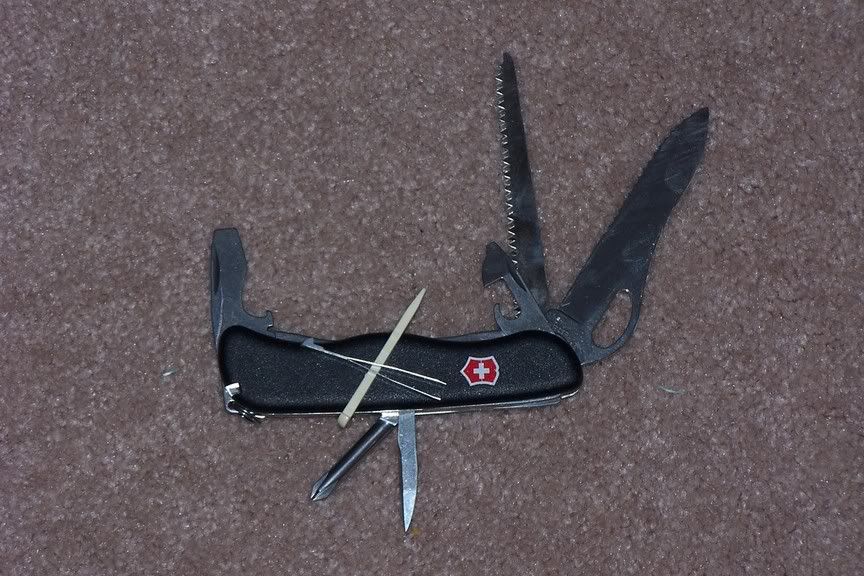 Comparison with victorinox recruit and victorinox spartan:
open: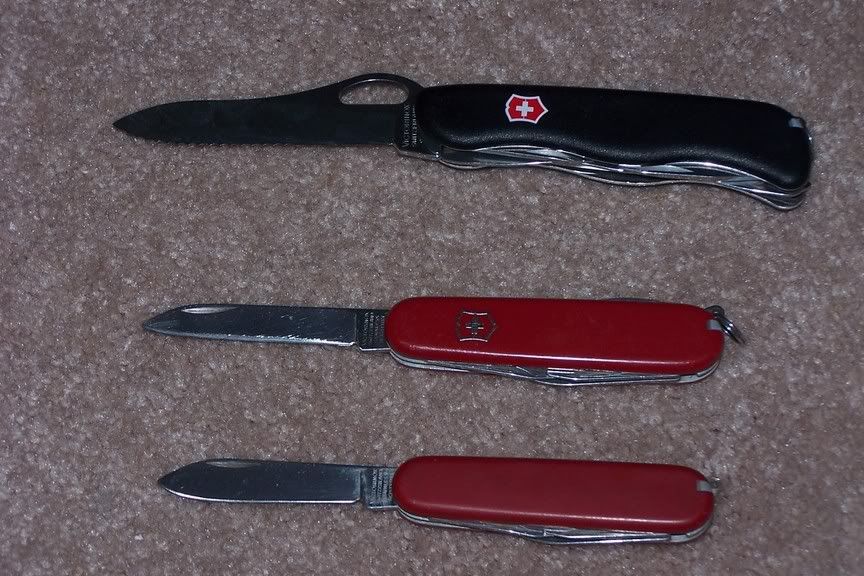 and closed: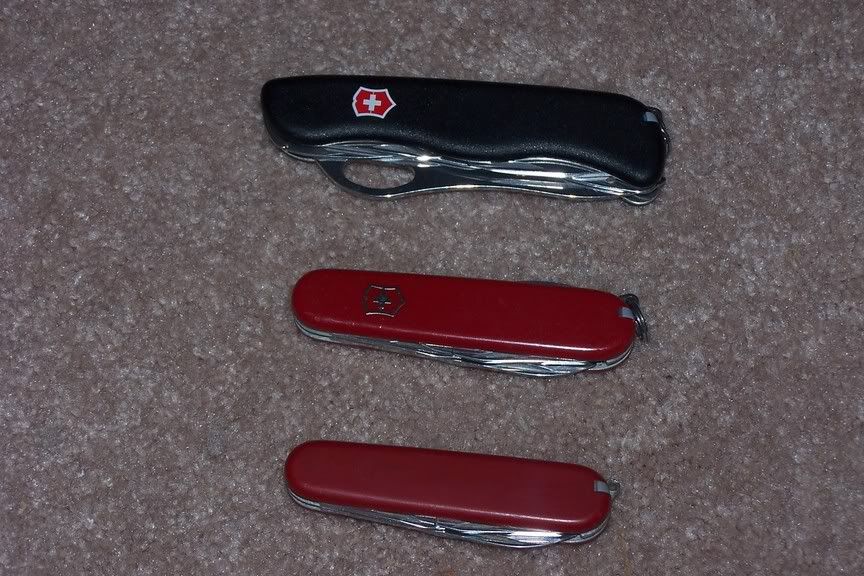 comparisons with a spyderco native and a victorinox recruit:
main blade open: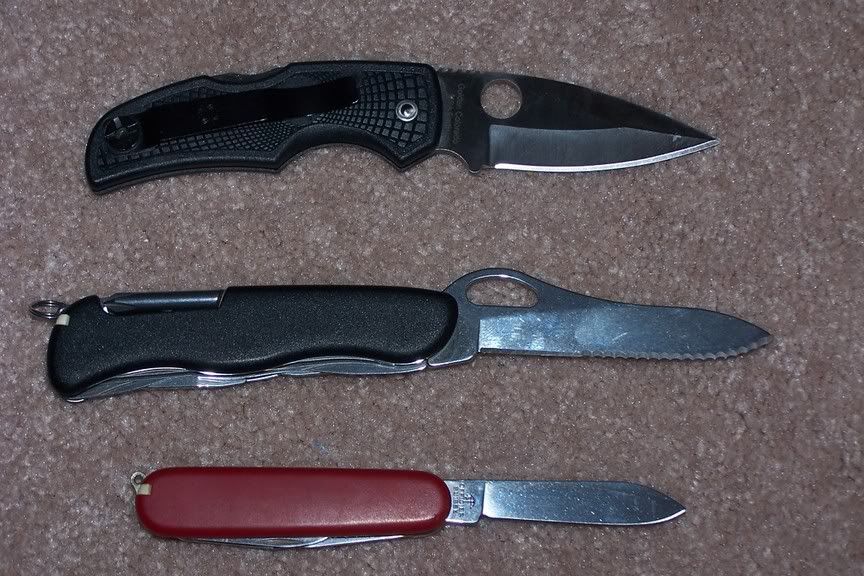 and closed: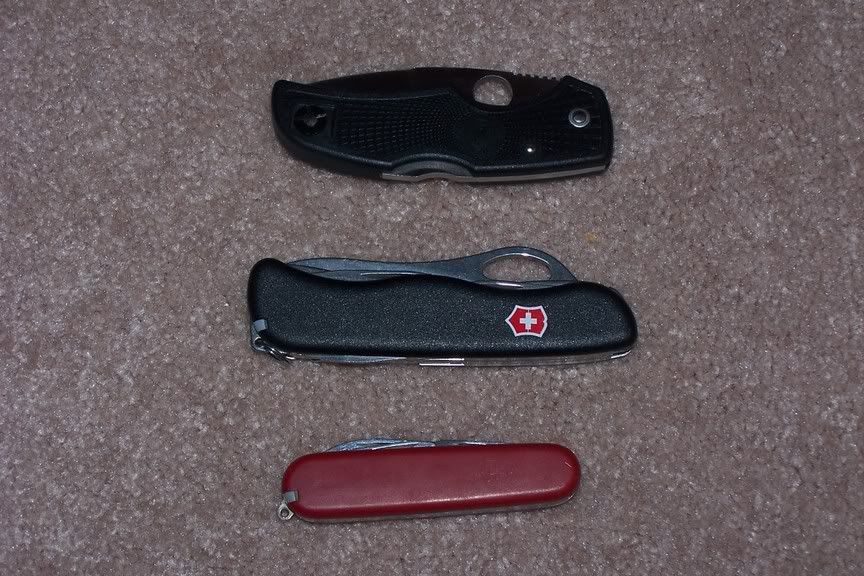 close up of main blade showing scalloped serrations, and their location
on the blade: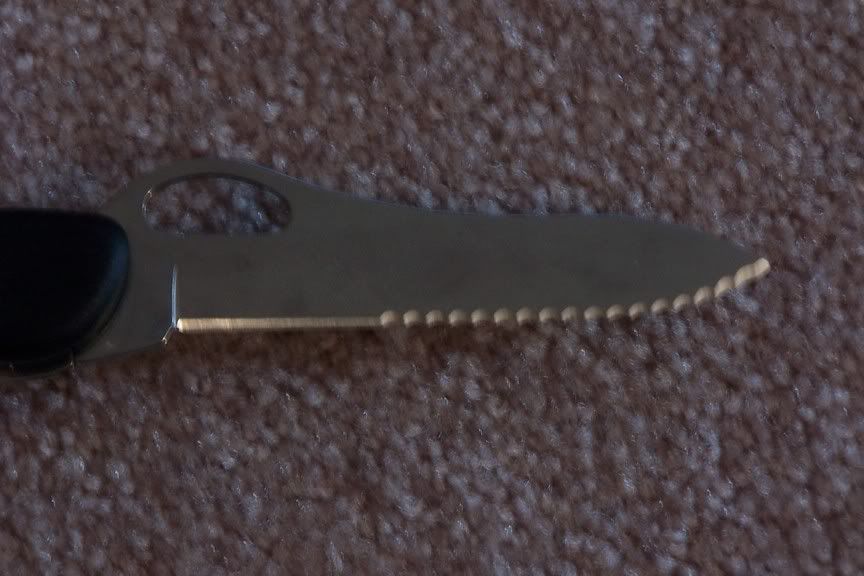 after cutting some rope: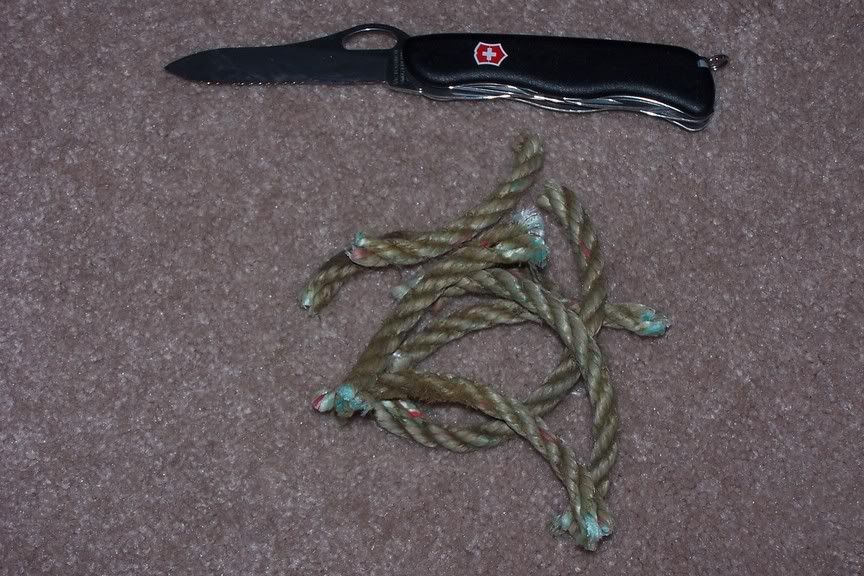 the cardboard box before: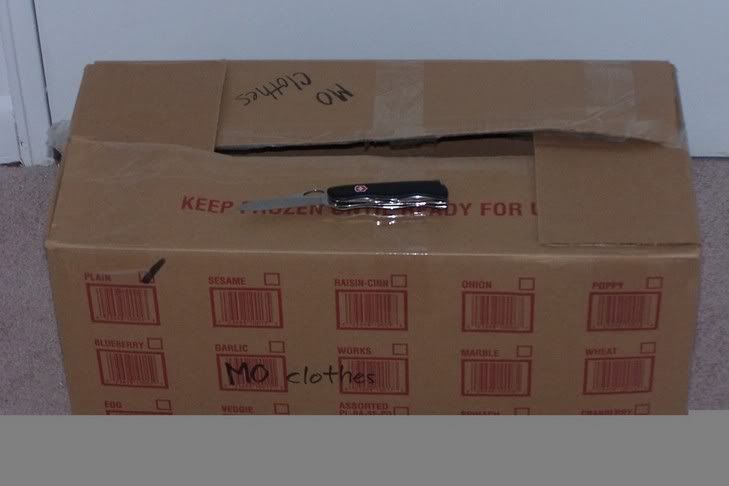 the cardboard box after:
I like this knife, notwithstanding its fit and finish, and plan on
carrying and using it for a while. I always try to have a swiss army
knife on me for its other non-cutting uses. I find multitools too
large, and some of the smaller SAKs too small.
Pete