Post by Pete1977 on Mar 2, 2009 11:54:32 GMT -5
While out buying some diamond stones for my lansky system I saw this knife. I could not help myself and picked one up.
This is exactly what I have been looking for in a knife, traditional materials with some modern features. It is a small folding hunter style handle with a russlock style elongated clip point blade. There isn't much belly to the blade though. The cutting edge is straight for about 3/4 of the length of the blade, curving up to the tip. It's not a big knife. In pocket it feels about the same size and weight as a full size stockman.
It has amber bone handles and a CV blade. It has dual thumb studs for a left hand or right hand opening and a liner lock. The nice thing though is that the backspring keeps the knife open like a slip joint even when the lock is disengaged. There IS some vertical play in the blade with the lock engaged but no more than in my Vic One-Hand Trekker. It has a pocket clip mounted for tip down right hand carry only.
Mine came with an almost perfect 30 degree inclusive angle on the edge and a very even grind. It was sharp out of the box but I sharpened it on the sharpmaker to get a hair shaving edge on it.
It fits my hand perfectly, my only issue being that the liner lock is right in the meat of my index finger and defeats the contour of the handle. Otherwise I like this little knife a lot.
I'll edit to add some pics when I take some. I'm going to eat some apples and get a patina started.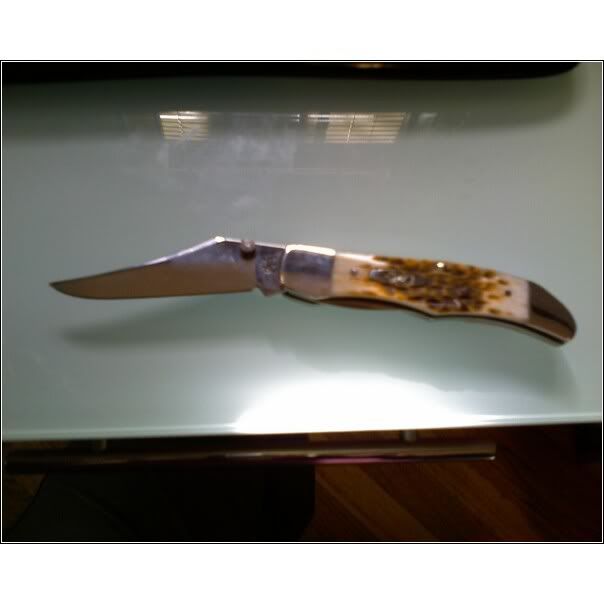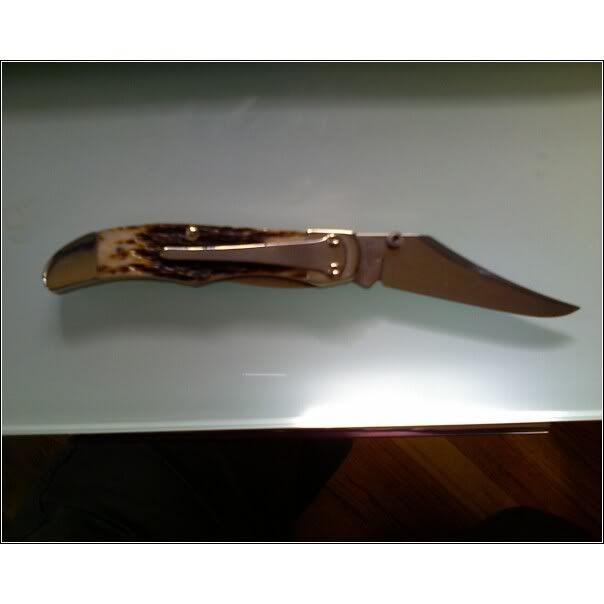 here are some cel phone pix i took of the new case.
The clip is tight enough to hold the knife securely in my pocket but not so tight that I have to work to get it out. It is springy enough that I think it will loosen up in time. It is secured with 2 torx screws.
I am going to put a patina on this knife gradually and naturally. The finish is a mirror polish and after an apple and a tomato it still doesn't show signs of staining. I will probably EDC this knife on the boat for the next three weeks. I will alternate with a tactical folder (usually a spyderco or kershaw) and see how it stands up to moderately hard use.
pete