Post by Pete1977 on Jul 31, 2009 9:04:37 GMT -5
About 12 weeks ago Sal Glesser sent me a Byrd Cara Cara Rescue to try out and use on the boat. Since then I have made 2 trips on the tug with it, using it as my only knife, and 2 3 week periods at home, travelling, and vacation back in Massachusetts.
I had him ship the knife to my Mass address because I was leaving for a trip on the tug and going east when I got leave. My brother recieved it the day before I got to Massachusetts and it was waiting for me when I got into town. Thanks for the opportunity to try this out Sal.
I was going to write a review of this knife after some use but instead decided to use it as my EDC and do a write up after some long term use at home and at work.
Here are the specs from the spyderco site:
length overall 8 3/4" (222mm)
blade length 4" (100mm)
blade steel 8CR13MOV
length closed 4 27/32" (123mm)
cutting edge 3 3/8" (86mm)
weight 3.7oz (104g)
hole diameter 15/32" (12mm)
blade thickness 1/8" (3mm)
handle material FRN
The fit and finish was superb. The knife is screw constructed with FRN handles and steel liners. It is a heftier, more balanced knife than either the Spyderco Rescue or the Atlantic Salt. It has a more solid feel to it. The lockup was secure and the blade tang and lock bar were flush. It is a bit larger than the Rescue and Atlantic. My main interest in this knife though was the serrations. They are shallower and less toothy than the serrations found on newer spyderco knives. They are reminiscent of the serrations on the older models, similar to my Executive or Harpy. The knife was hair shaving sharp out of the box.
My only problem with the knife was when it was new it was extremely difficult to clip to the pocket or remove when it was carried clipped. The handle texture is very aggressive. Slippage with wet or slimy hands was not a problem. I did find myself having to wrench it out of my pocket at first and this led to the clip screws loosening and the clip itself developing some side to side play. A small phillips screwdriver fixed this. I don't know if the clip has broken in over time or the FRN beneath it is smoother now with use but it is much easier to clip and draw from even the heavy work pants that are part of my work uniform.
I took the knife cod fishing with my father and brother the first week I had it and used it to cut bait. I cut monofilament line easily, even with the serrated blade, due to their less agressive edge. I like how this knife has about an eight of an inch of plain edge at the tip, making controlled cuts with the sheepsfoot blade much easier than with any of the Spyderco serrated sheepsfoot knives. The teeth on most of those (and all of the one's I've handled) extend to the tip giving the impression that the tip of the blade is broken off.
After my 3 weeks off I went back to work on the tug and used this knife for everything that a deckhand on a towboat would use a knife for. I did not abuse it. I did some light prying, cut pine shingles for plugging barge leaks, cut small 3/8 and 1/2 inch nylon line, 1 1/4 inch polypropylene and 1 1/4 inch trash lines (leaving line) and 2 inch poly/dacron and poly/nylon lock lines, plastic bottles, and twine that bound the heavy steel wire rigging in coils.
In my opinion Spyderco's Byrd factory has improved the heat treat of 8CR13MOV. Compared to the Raven I used 3 or 4 years ago, the edge retention of the Cara Cara Rescue is superb. I went 3 weeks of mundane use on leave and over a week of hard use on the tug before I had to sharpen the knife. Even now, I have not had to give it more than 20 or so passes on the white sharpmaker stones to get it hair shaving sharp again. It did strike the steel 1 inch wire rigging and get some dings in the first large serration and the fine tip was bent. They did not sharpen out but are straightening with each successive sharpening. 8CR13MOV appears to deform rather than chip when contacting a hard surface. With my older Byrd, the Raven, the edge would chip. All in all, this newer Byrd seemed to have a much better quality blade than the than the older one.
It has been wet from seawater, river water, rain and sweat and I have yet to see a spot of rust on the blade, in the hole, or on the liners. I don't do much maintenance to this knife except for wiping it off on my pants after using it.
I would like to see this serration style on some of Spyderco's models. The shallower, less pointy teeth are smooth cutters, making hanging up in fibrous or stranded material a non issue and leaving a smooth, not frayed or jagged cut. The comet opening hole is not my favorite either. I prefer the more aesthetically pleasing round hole, a. because it is smaller, and b. because my thumb tends to hook in the comet's tail occasionally. If this knife had a round hole it would be the perfect knife for me at work.
Here are some pix from the first trip I used the knife on. Enjoy.
Cutting Polypropylene leaving line from a coil for splicing:
Cutting 2 inch lock line to repair a stranded end with a new eye splice:
Cutting "Trash" or "Scrap" line to repair a splice: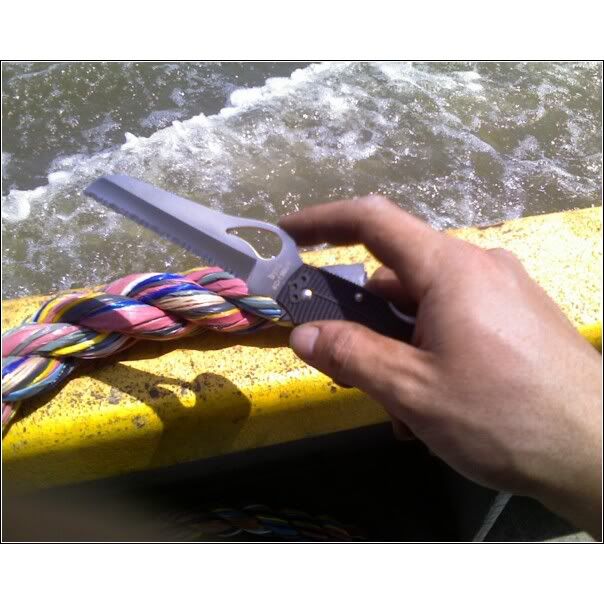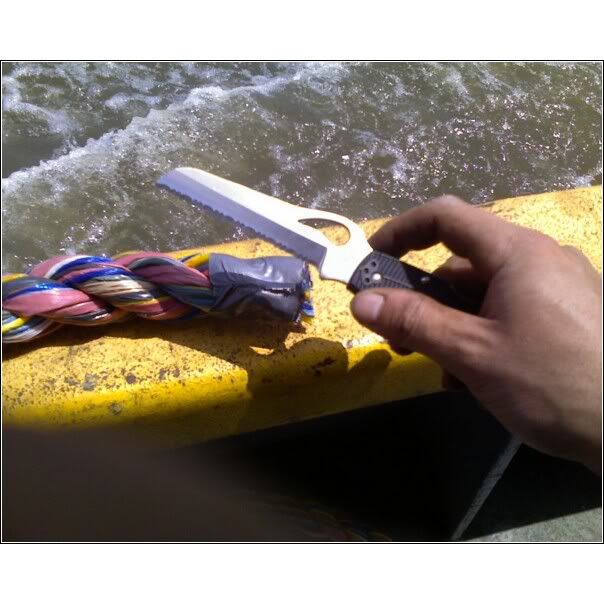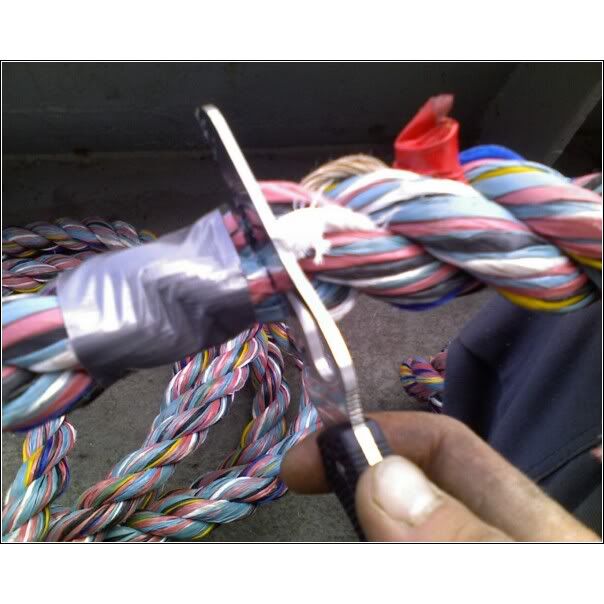 A few of my crew mates expressed an interest in getting some Cara Cara Rescues so I told them I would order a few and take them with me on my next hitch on the towboat. After seeing it and using it there may be a few more Spyderco converts on the river.
Pete