Post by Pete1977 on Mar 2, 2009 11:51:52 GMT -5
Okapi locking folder 907E
9/12/08-
I just recieved this knife from Ragweed Forge. It cost $10 dollars (plus $6 shipping). It is a large locking folder made in South Africa. It is a 4 inch carbon steel blade set in a resin impregnated wood handle. Its overall length is 9.25 to 9.5 inches. The blade is thin, about a tenth of an inch thick.It appears to be flat ground on one side and a very high shallow hollow grind on the other.
Compared to a Cold Steel Twistmaster and a Spyderco Endura 4:
The fit and finish is rough, but to be expected in a rustic work knife. It locks up tight with no blade play in either the vertical or horizontal direction. The locking mechanism, I call the ring lock, seems to be a combination between a lockback and a modified pick lock. The release of the lock is a large splitring or key ring. The tang of the blade is rounded and scalloped giving the knife a ratcheting sound and feeling as it is opened or closed. Hence the Caribbean nickname of "ratchet knife." It has also been known as "three star" or "t'ree star" for the three stars inlayed on the handle.
Lock mechanism and backspring: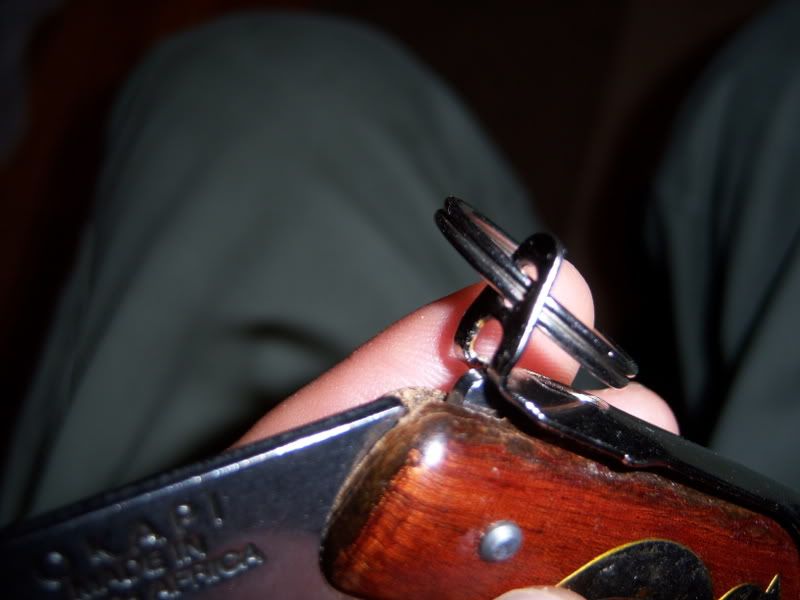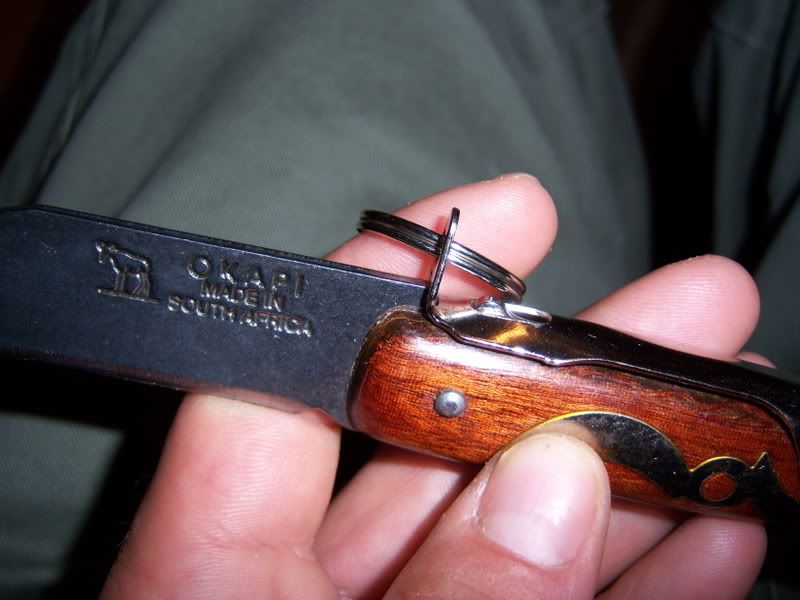 Handle inlay: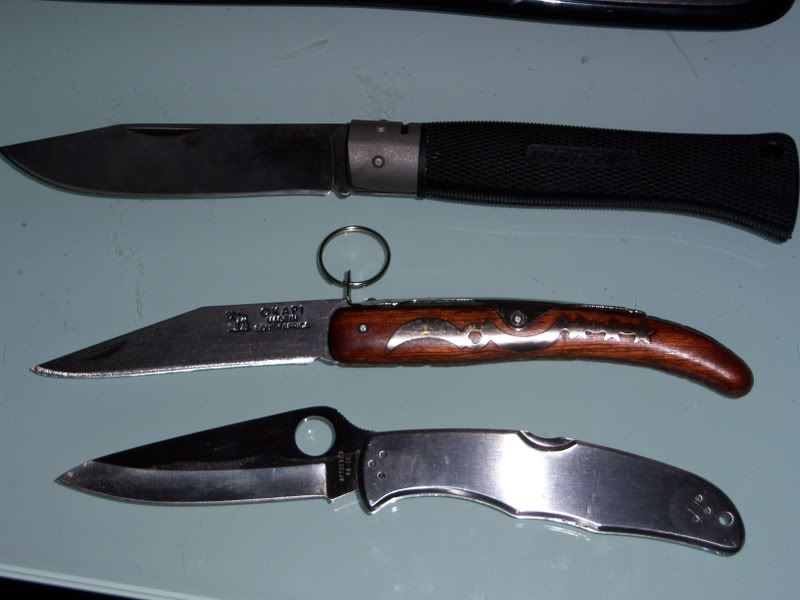 Non-inlayed side: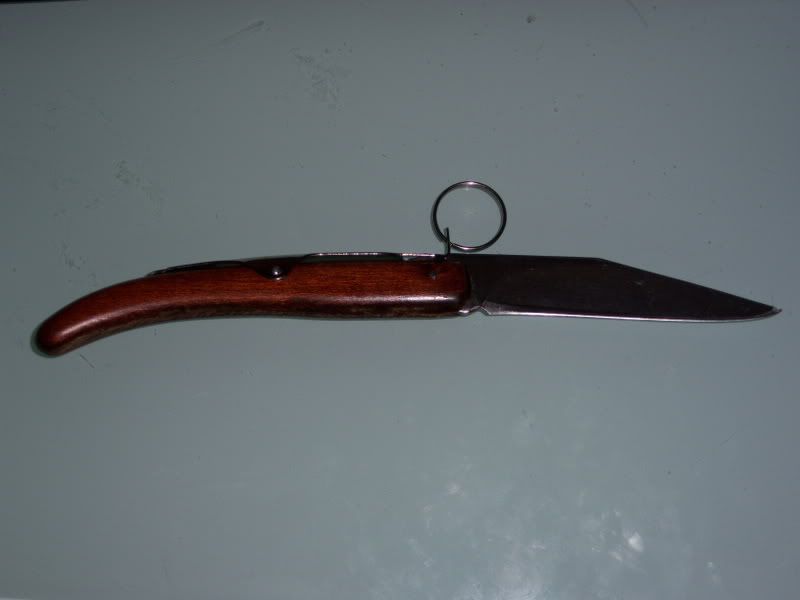 The edge came burred in some places and dull in others and the grinds were off. I used the 20 degree setting on my Lansky sharpener to even out the back bevel of the blade and the 30 degree setting on the Sharpmaker to put the edge on it. 30 passes on the coarse corners and flats, and 20 on the fine corners, and a few passes on the flats of the fine stones gave it a hair shaving edge in little time.
I used it to slice a tomato immediately after sharpening. It sliced thin slices easily through the moderatly soft tomato.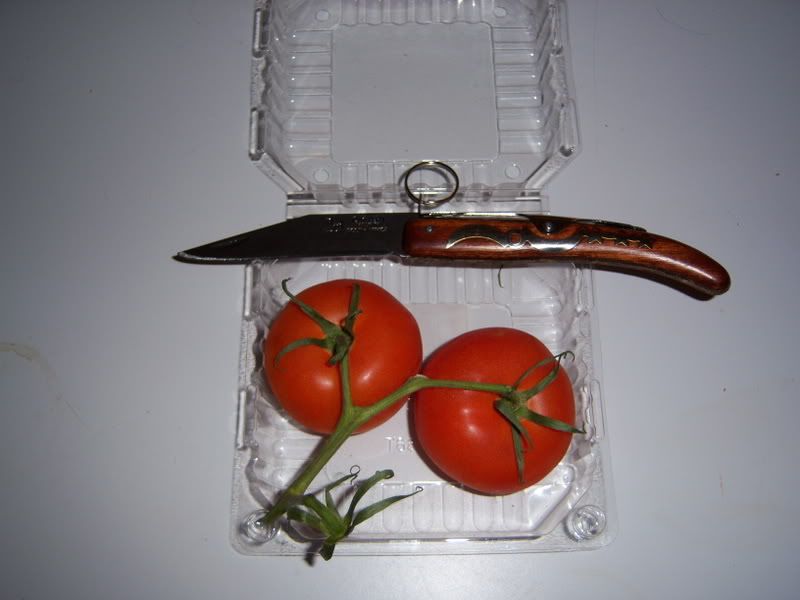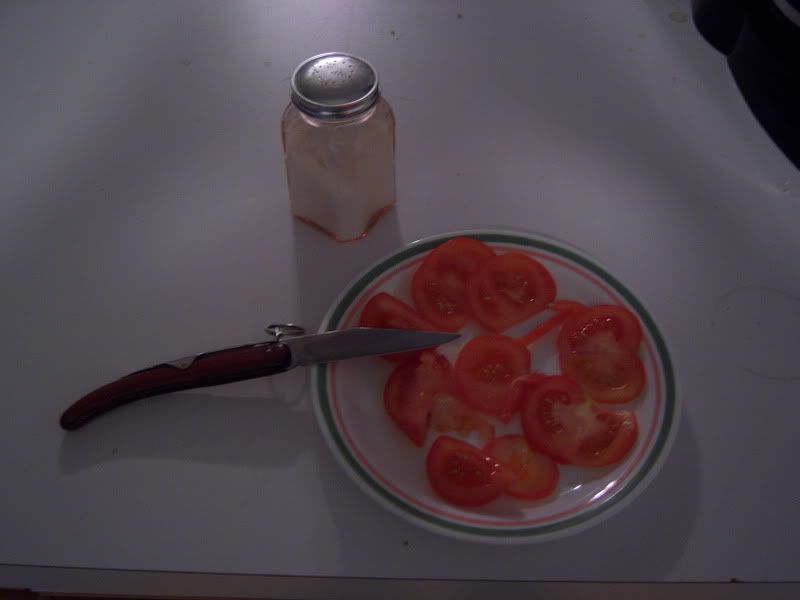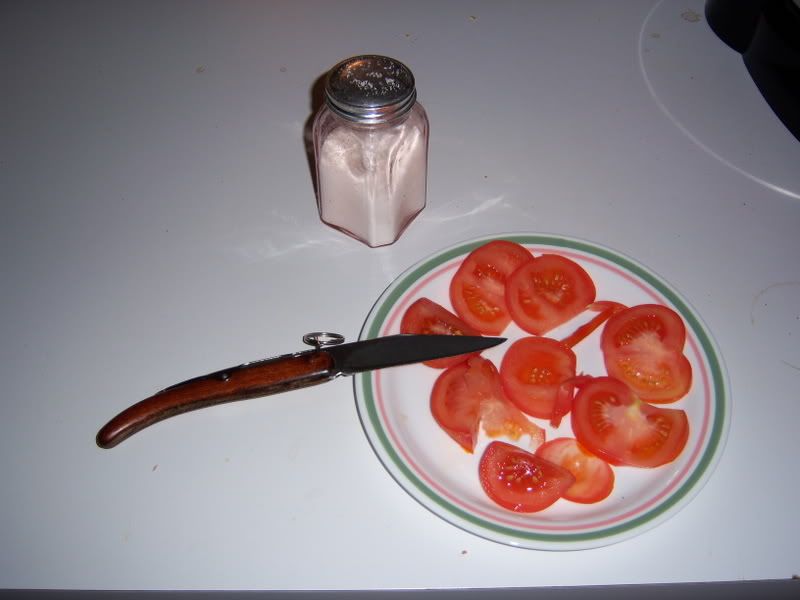 Cardboard cutting with some help from cat:
He likes knives too: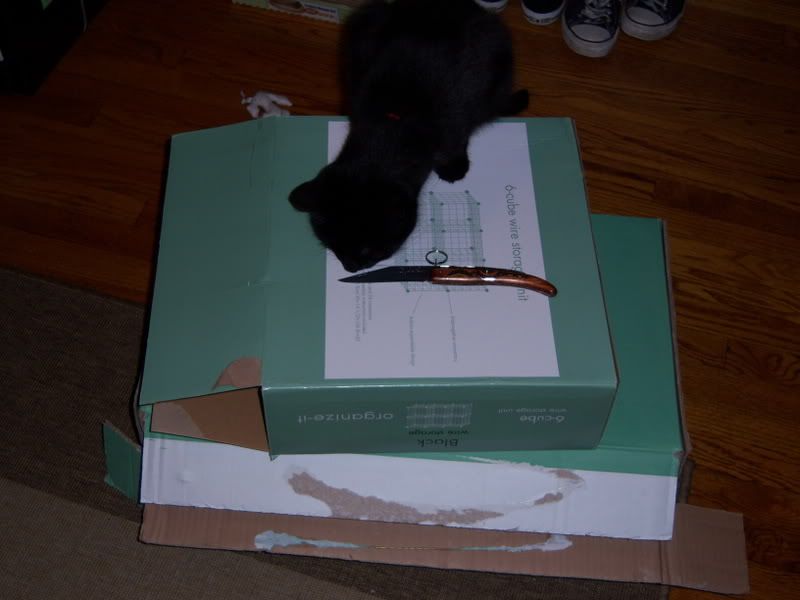 After cutting up the small box on top of the pile: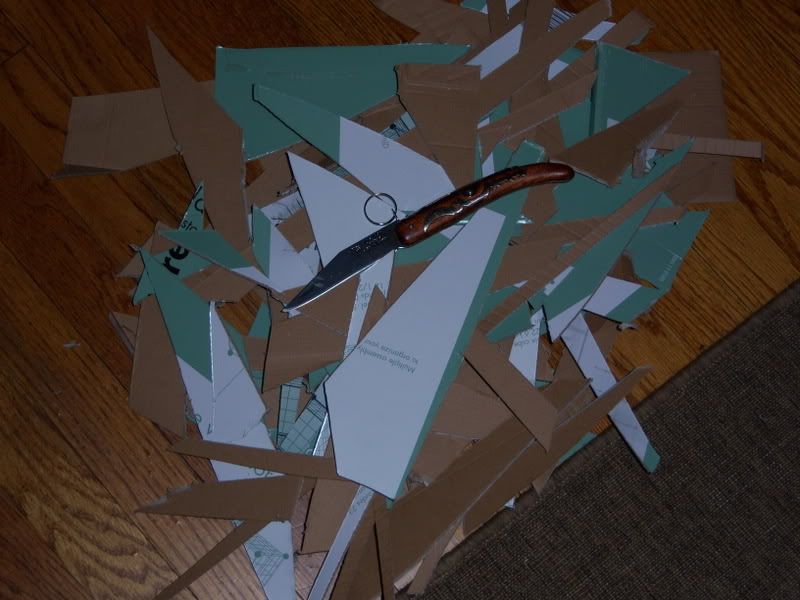 There was no real loss in edge retention however I swiped it five times per side on the corners of the white sharpmaker stones and used it to cut up some chicken for dinner: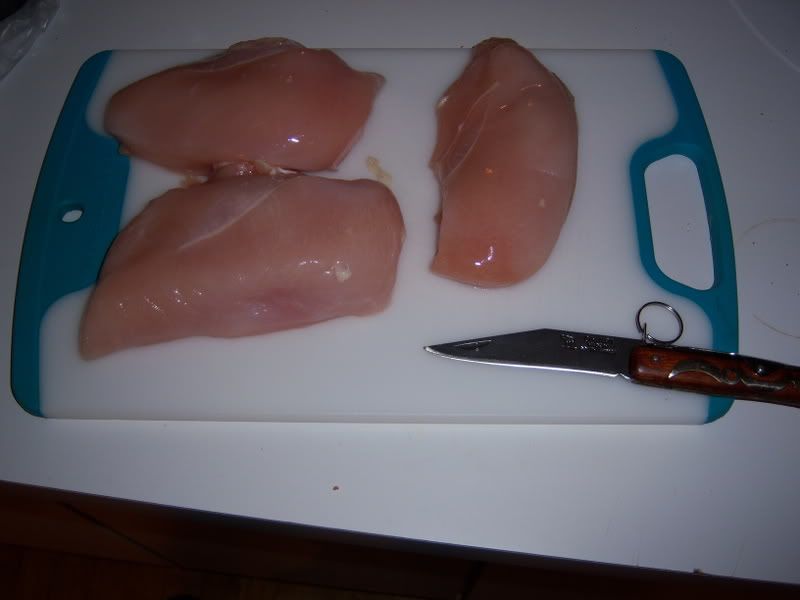 It easily sliced an apple for desert. (sorry forgot to take a picture:o)
9/13/08-
This morning I used it to cut up some old fruit in the fridge. It easily sliced the semi soft peaches. This was easy due to the hair shaving edge on the knife and the thin blade stock.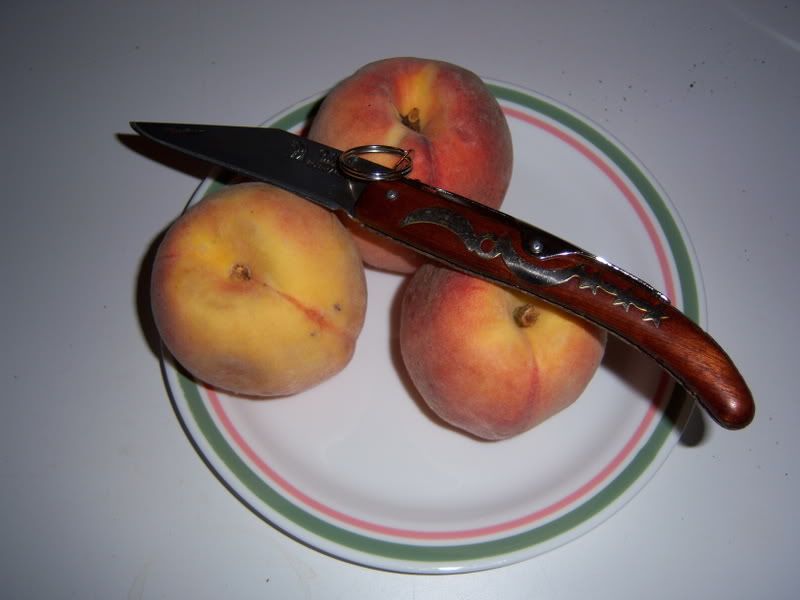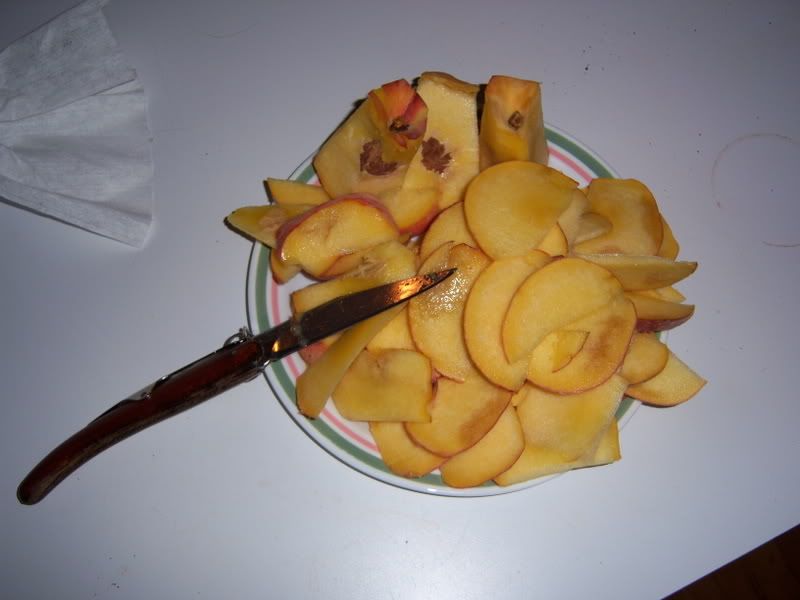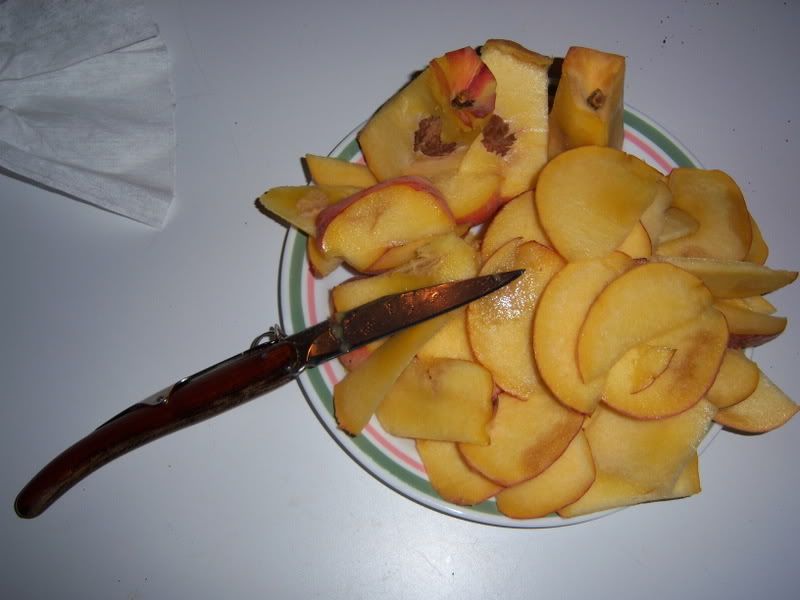 It also cuts hard foods nicely, such as potatoes, with no splitting when both slicing and quartering them.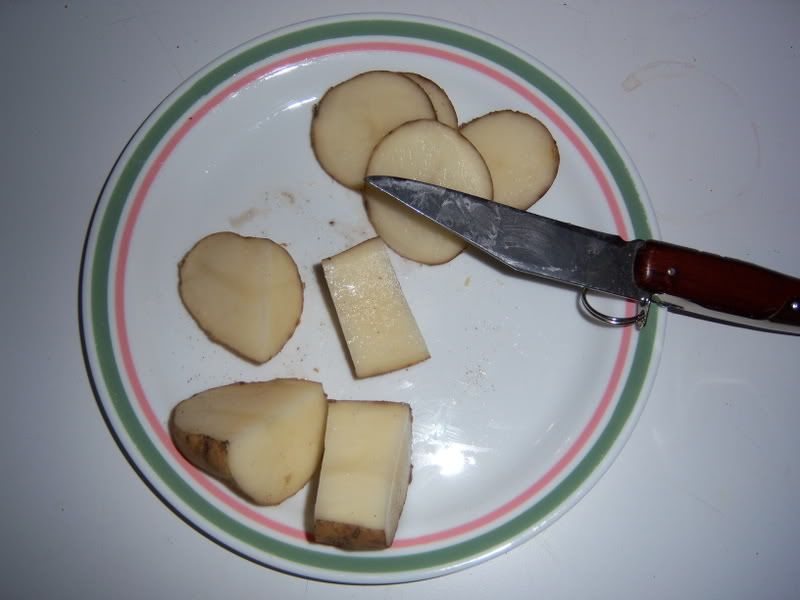 It worked well as a paring knife, even given its longer blade, it was easy to choke up on the slim handle.
It dices the small quarters of potato easily and maintains its edge even after contacting the plate beneath the potato.
It is very comfortable to hold when doing a variety of cutting chores from food prep to cardboard cutting. I have not yet used it on rope but I'll probably be using it for the majority of my work on my next towboat hitch. The Okapi rides well in the pocket for the most part, although the ring on the backspring can be a comfort issue depending on if you sit a lot or on which pocket you choose to carry the knife in. Its length closed may also print on clothing or protrude from some pockets but carried tip down can easily be confused with a key ring.
The mirror polished blade has begun to take a nice patina. I eat a lot of apples so I should have a nice solid gray hue to the blade before I leave wednesday for work. The knife takes a nice polished edge or a sturdy toothy one and is easy to reprofile and resharpen. Field touch ups and resharpening should be fairly simple after harder use on the boat.
The large locking Okapi folder would make a nice knife to leave in the glove box or put in a day pack for hiking or camping. It is a lightweight but sturdily locking folder that has a history as a work knife in several parts of the world. The price can't be beat and enables someone to buy several and not worry about loss or breakage. They are light enough that you can carry two or even three into the field.
Pete